Best CMS Development Services In South Africa
A Content Management System (CMS) is a website management platform. CMS software enables a direct link from a computer at home or work to your website's hosting server, allowing anyone to post information on a website without knowing web design or programming.
With the increasing competition, it has become necessary for small and large enterprises to update their websites regularly to maintain a marketable phase and online traffic. The internet's services have been operating for more than a few decades. However, the internet has been revolutionized because of the CMS's inflexibility. As a result, CMS development services in South Africa have become a significant aspect of website design and development. Specifying appropriate details on your website will assist you in drawing visitors and also make them visit over again.
The main goal of our best CMS development services in South Africa is to insert, modify, or remove material from your website. It gives your website flexibility and versatility. By allowing the webmaster to control everything, you can also change the website's design or layout. CMS aids in the organization of your website and the organization of content and other connected items on your website. CMS allows you to reduce the cost of implementation without sacrificing features or the capacity to manage content.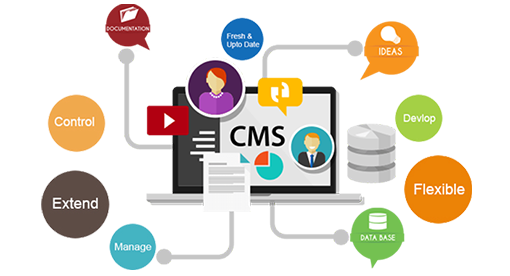 Regularly, starting a website with hundreds of pages, many graphics, and so on would be highly stressful and tough to manage. If you use CMS for website design and development, it will be relatively easy for you to save a lot of money, and you will administer the website without the help of a coder. If you want to develop a website and maintain it yourself, CMS is the way to go. It doesn't matter if you're a small, medium, or large business or a corporation. The design and development of your website should be done according to your specifications. Here are some advantages of using CMS development:
Save cost and be user friendly: It requires only a one-time expenditure to get started, and the cost of upkeep is minimal after that. It requires less programming and development effort than comparable non-CMS websites. It also offers an easy-to-use backend management system.
High level of customization and plug-in support: CMS development services in South Africa permit you to write content clearly on the website. It does not cause technical or HTML knowledge by the author. You solely use a graphical interface to create material. Select various templates from the internet and then quickly combine them. The CMS development also enables plug-ins, allowing you to extend the website's capabilities.
Keep content fresh, unique, and flexible: With the latest best CMS software development services in South Africa, you can maintain the content of your website up to date for users every time they log in to your website. It also boosts your website's versatility by allowing you to manage it while on the go. The only thing you'll need is access to the internet. In just a few clicks, you can alter the entire layout of your website, giving you and your users a new look every few days.
Provide support to multiple sites and users: One of the significant advantages of CMS development over other content development platforms is the ability to support several websites at the same time. You can easily manage multiple sites at the same time. Its multi-user support is also incredibly suitable, as anyone from anywhere in the world can contribute updates and other relevant material to the website.Aside from these benefits, CMS website design and development has another advantage: security. The website's overall control remains in the hands of the site's owner. Getting the most out of your business CMS development is essential because it improves your website's efficiency, functionality, and usability.